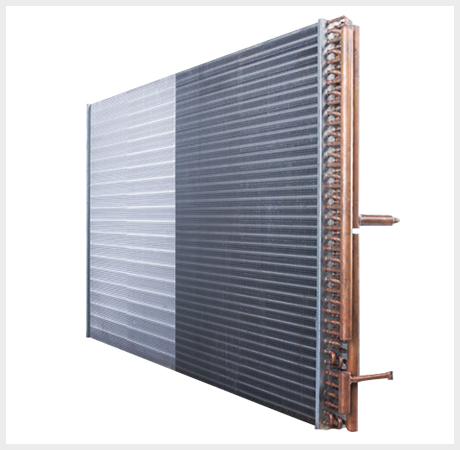 Traditional slab style condensers are among American Coil's top products.
Available in both aluminum and copper fin configurations, we have manufactured condenser coils in a wide variety of sizes. Our custom sizing ranges from tight tolerance 2" x 4" aerospace applications to 30 foot long coils for large-scale, industrial HVAC applications. American Coil manufacturing capabilities include, smooth or enhanced tube wall thickness from .014 to .049 inches, tube diameters of 5/16, 3/8, and 1/2, or 5/8 inches, and fin thickness from .006 to .010 inches.
With American Coil's custom design of new and replacement condenser coils, we produce quality coil solutions based on your specific project needs. By reproducing existing OEM design condenser coils or creating a new design, American Coil can maintain an exact fitment, and manufacture a coil based directly on your specifications.
Supplying nationwide marquee brands with original equipment coils; American Coil is the primary coil manufacturer for large HVAC air handlers, aerospace, computer data room cooling, restaurant and foodservice cooling and even private jets.
If you're unsure of the application dimensions or need expert guidance in selecting the best application solutions, our dedicated team of condenser coil engineers can help you ascertain every aspect of your project.For replacement or new condenser installations,
American

Coil
also offers
AmeriCoat ™
, a dip-coated technology designed to protect condensers and dramatically extend their service life.
The highly skilled and experienced professionals at American Coil can create cost-competitive, custom coils and accessories that can't be found anywhere else. Contact us today to learn more about our condenser coils.
---