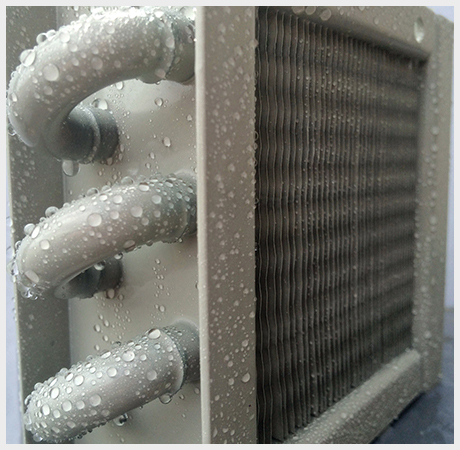 American Coil can ensure an extended lifespan for your coils through our signature  AmeriCoat ™ coil coating system.
This dip-coat process completely encapsulates the coil and creates durable, coated coils that are resistant to corrosion and abrasive outside forces. With less than 1% heat transfer degradation and an unsurpassed 10,000 hours of independent salt spray testing, AmeriCoat ™ is unrivaled in its industrial-strength effectiveness. The coil coating process is achieved over a 2-3 day long process performed at our on-site facility. As a nationwide industry leader for over 20 years, American Coil understands that application solution systems differ from business to business. We have provided the highest quality coils to diverse industries, ranging from blue-chip names in OEM HVAC to private jet manufacturers, each necessitating a distinct, custom solution for their system.
However, implementing anti-corrosion measures during the design and manufacturing of any coil contingent system can dramatically extend expected service life. Coils treated with the AmeriCoat ™ system are guaranteed by American Coil for 5-years against failure due to corrosion!
The experienced and professional team at American Coil can help you determine the best solution for your application. For more information on how coated coils can help your company offer coil protection not available anywhere else, call us today and speak with one of our dedicated coil coating engineers.
---
AmeriCoat™ Corrosion Protection System
The AmeriCoat ™ Coil Coating System is an epoxy-based, protective coating coupled with a unique, multi-step preparation and application process. The coating product and application procedures are specifically formulated to achieve increased coil durability, minimize cleaning and service maintenance, and maximize the operating life of the subject coil. AmeriCoat ™ will actively repel water and keep coated coils clean.
AmeriCoat ™ is the best protective coating available for coils and heat exchangers, period!
The AmeriCoat ™ system has a unique multi-tiered approach to coil protection:
Blocks corrosion
Maximizes operating life
Minimizes cleaning and maintenance
Improves indoor air quality
Has less than 1% effect on heat transfer
Because AmeriCoat ™ is applied by full immersion (dipping) it offers unsurpassed total coil protection as compared to spray-on coatings. The liquid coating material bonds the coils heat transfer surface (fin collar) to the copper tube, effectively rendering it anti-corrosive. This process protects coils from losing capacity and efficiency in harsh environments.
Unlike other anti-corrosion coatings, AmeriCoat ™ bonds to the substrate, penetrating the pores of the metal, providing a protective barrier that outdated coatings, like Heresite Phenolic & UC-5500 Polyurethane, can't duplicate.
AmeriCoat ™ is specially formulated to prevent the growth of microorganisms on the coil. Microorganisms don't just cause health hazards and a loss of productivity in the workplace, they also reduce the efficiency and capacity of the HVAC equipment. Independent studies indicate that maintaining clean coils in air handling equipment can reduce energy consumption by as much as 14%. (Study verifies clean coils save energy; ASHRAE Journal Nov. 2006)
TECHNICAL INFORMATION:
AmeriCoat ™ contains silver ion antimicrobial (CIBA Irgaguard), titanium dioxide, and a quaternary ammonium biocide. While each of these products are very effective individually, when applied synergistically with AmeriCoat ™, the benefits are amplified. The protective qualities of these products are active for the entire life of the coil coating.
The AmeriCoat ™ System produces a super hydrophobic (water shedding) surface that is grey in color. This coating will actively repel water and keep coated coils cleaner. Any water that finds its way onto the surface of an AmeriCoat ™ coated coil will bead up and roll right off, carrying any surface contaminant away with it. This makes it very difficult for mold, algae or fungi to adhere to any coil surface, improving indoor air quality.
CERTIFICATION HIGHLIGHTS:
| ASTM Standard | Dry Film Thickness | Result | Test Description |
| --- | --- | --- | --- |
| ASTM B117 | 7-9 MICRONS | 10,000 HOURS | SALT SPRAY |
| ASTM G85 A1 | 7-9 MICRONS | 4,000 HOURS | ACIDIFIED SALT SPRAY |
| ASTM G21 | 7-9 MICRONS | PASS "0" growth score | ANTI BACTERIA |
| ASTM G22 | 7-9 MICRONS | PASS "0" growth score | ANTI MOLD |
| MIL-STD-810 510.5 | 7-9 MICRONS | "EXCELLENT" | SAND / DUST RESIST |
| ASTM G87 | 7-9 MICRONS | 50 Cycles, No Corrosion | MOIST SO2 TEST |
| FDA TI 21 CFR175.300 | 7-9 MICRONS | APPROVED | FOOD CONTACT CERT |
AmeriCoat ™ has the lowest heat transfer reduction of any coil coating at 0.05%.
AmeriCoat ™ is FDA approved for indirect contact with food and food surfaces.
AmeriCoat ™ is suitable for coil temperatures up to 300 degrees Fahrenheit.
AmeriCoat ™ is considered a "green" coating. It is ecologically safe and has just 85 grams of VOC's per liter!
AmeriCoat ™ easily qualifies for LEED credits as related to anti corrosion coatings.
AmeriCoat ™ is UL listed.
---