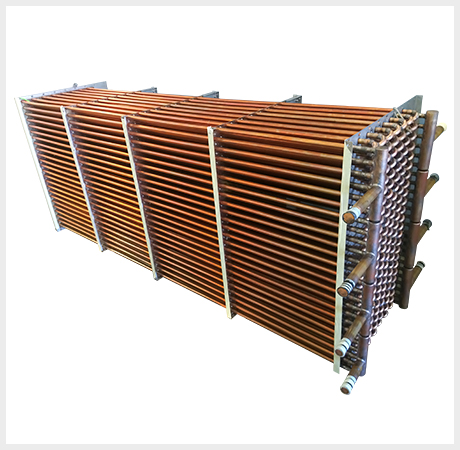 American Coil has developed an innovative new design and manufacturing method for custom evaporative condensers virtually eliminating tube fatigue commonly found in many condensers due to lack of tube support and/or tube casing contact. Specifically designed to replace deteriorating and broken, plastic or rubber grommet tube supports, American Coil's replacement evaporative condensers are manufactured with stainless steel and copper in an open tube style for cooling tower applications in a demanding environments.
Utilizing proprietary, copper tube-sheet designs expressly constructed to reduce the vibration effects on the tubes at support surfaces, our custom open tube bundles eliminates exterior tube wear and dramatically increase the service life of the unit.
As a nationwide leader of evaporative condensers, American Coil has engineered and installed air condensers for the most caustic environments, including large casinos in desert salt flats, industrial factories, refineries, and fishery refrigeration facilities. Esteemed for over 20 years, Americal Coil has led the industry in custom solutions.
To help reduce calcification buildup, American Coil offers evaporative condensers dip-coated with AmeriCoat ™, a unique technology designed to protect open tube condensers from corrosion and degradation in performance due to buildup on the tubes.
If you're unsure about the exact dimensions of your application and require a specialist, reach out to the dedicated team of American Coil condenser engineers. Working within your project specifications, our expert team can efficiently create a better than new solution for your evaporative condenser application.
For more information about our condensers and the other products that we offer, contact us today and experience the American Coil difference for yourself.
---