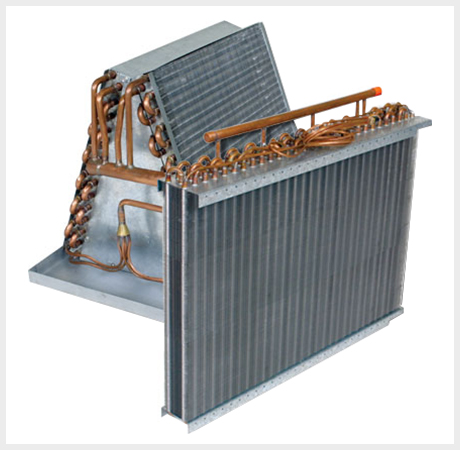 American Coil can engineer and manufacture custom replacement evaporator and DX coils based on your projects specifications.
We can replicate an OEM coil or improve upon the original design while maintaining the fitment. Our evaporator coils are made to your exact application specifications. We offer a variety of metering, circuiting, and manifold options. American Coil is also capable of adding intermediate drain pans to replacement units, producing coils and pans from stainless steel or mild treated for corrosion protection.
With the experts at American Coil, you can extend the life of your equipment. Evaporator and DX coils can be exhausting to access and replace, and our experienced team of engineers provide quality service guaranteed to extend longevity of existing coils and provide the finest evaporator and DX coil solutions, so you don't have to do the same job more than once.
Recognized nationwide, and utilized by marquee HVAC brands, American Coil has been the leading provider of original equipment for over 20 years. Committed to providing the highest quality evaporator coils for aerospace and private jet manufacturers, HVAC air handler makers, computer data room cooling manufacturers, and other diverse industries, American Coil guarantees the most efficient solution for your projects.
All replacement and new coil installations can be treated with AmeriCoat ™, an innovative, American Coil developed dip-coat technology that ensures evaporator coil protection and dramatically lengthens service life.
Partnering with the team at American Coil will ensure your application products are designed and produced by knowledgeable people,…. coil people. Contact us today to learn more about our evaporator coils.
---