Our Company
Founded in 1995, American Coil is a leading manufacturer of commercial and industrial coils and applicator of industry leading anti-corrosive coatings.
---
Looking for a custom coil manufacturer? Want to improve on an existing design? American Coil can help! We are a skilled custom coil manufacturer for all kinds of "regular" applications and specialized applications such as: airplanes, trains, oil rigs, overhead doors, skyscrapers, chillers and food-related freezers, and refrigeration applications.
Converting refrigerants? No problem, our staff has the experience and know how to take the guess work out of your coil needs and provide a solid, cost effective and trouble free solution. We build water, steam, evaporator, booster, condenser, and custom coils.
Our coil manufacturing capabilities enable us to manufacture both OEM and "one of a kind" replacement coils that you may not be able to find anywhere else. We are a trusted custom coil manufacturer and can turn your specification into an on-time delivery of exactly what you need. We can build anything from 4 inches up to 30+ feet long!
American Coil's experience and efficiency gives us the ability to produce high-quality, competitively priced, and precisely built commercial and industrial coils, ON TIME! We invite you to experience our commitment to quality and unsurpassed customer service.
Mission statement
To help our clients gain a competitive advantage and grow their business through the use of American Coil products and services.
To do this through a true partnership experience that brings indisputably real and tangible value to all parties and a mutual trust and customer loyalty beyond simple business transactions.
To be a recognized leader in the HVAC industry (by our clients and competitors alike) for high quality tube and fin coil manufacturing and precisely applied anti-corrosion.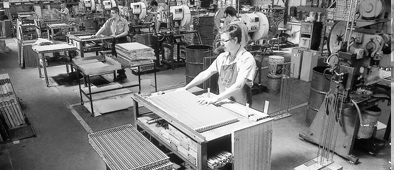 To deliver our products and services with integrity, in a timely manner and at a competitive price, to constantly evolve our products and methods.
After 20+ years of being a custom coil manufacturer for the HVAC industry, we know what works and what doesn't. American Coil's hands-on workforce averages almost 10 years tenure with the company. Low turnover in our factory workforce means vital skills are retained and built upon year after year. An educated and highly experienced workforce is an efficient workforce.
American Coil gains customers with: fair pricing, on-time delivery and greater than expected fit/quality. The proper blend of these three attributes is what keeps our customer base loyal to our products.
Just as American Coil builds upon our loyal customers, loyal customers have also built upon American Coil. We build coils for many large coil re-sellers, design/build groups and OEM's. We know how important it is to properly label and discreetly drop-ship those highly sensitive products according to our customer's exact procedure/s. American Coil can help your private label entity keep your supply chain just as private.
Building top quality coils has become second nature to our staff because American Coil's production workers and methods are constantly monitored and improved by our factory planner. Our full-time Quality Control department and production planner both bring the Japanese model of Kazan (constant improvement) to our operation. This method ensures consistently improving quality and efficiency year over year.
When a customer specifies (and/or approves) the specific materials that a coil is supposed to be built with, it is up to the manufacturer to properly execute that design with Integrity. Integrity is the foundation of trust that must exist between a customer and a manufacturer. For instance, American Coil's customers can trust that when our engineers say that a coil has .020" tube wall thickness and .075" fin thickness…our integrity assures you that it actually does. While it may be quite easy to check the fin thickness, the more expensive copper tube material is almost impossible to check without cutting into the coil itself. Over the years, we have witnessed several other manufacturers breaching such trusts in an effort to cut prices and gain short-term business. We have taken a hard stance against such practices, as we feel integrity will prove the proper path for the long-term.
---
Our staff

American Coil's engineering staff has an average of 33 years of heat transfer engineering experience and our skilled coil craftsman average 9 years tenure with our company. That's a lot of experience and knowledge put into every coil we make.
Our entire staff carries the company's "can-do" attitude into each aspect of their respective job, making our company nimble and responsive to our customer's needs and open minded about new processes and technology.